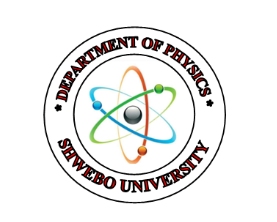 Professor and Head
Dr.Min Swe
Dr. Min Swe was born in Wet Let Town, Sagaing Division in 1961. His primary and secondary education was from 1967 to 1975 in Wet Let and high-school education was at Basic Education High School, Khin U Town, Sagaing Division from 1976 to 1978. He studied his first year Physics and second year Physics at ShweBo College from 1979 to 1981, continued his study at Mandalay University and got B.Sc (Hons; ) in 1984.
He received his M.Sc (Physics) in 1991 and Ph.D (Physics) in 2006 from Mandalay University. His PhD research is on Experimental Nuclear Physics. He firstly became demonstrator at Physics Department, Myitkyina Degree College and continued to work as assistant-lecturer, lecturer, associate professor and professor. He is currently holding Head Professor position at Physics Department, Shwe Bo University. He is also supervising both master and PhD candidates in research especially in experimental nuclear physics.
Professor
Dr.Khin Hnin Ei
Professor Dr Khin Hnin Ei got Bsc(Physics) in1985 from Rangoon University. She got again Msc(Physics)in1995 from Rangoon University. She researched in Theoretical Nuclear Physics at Mandalay University and then she got Phd (Physics) in 2014. She has been still serving a professor of Physics Department at Shwebo University.
ဒေါက်တာခင်နှင်းအိ၏ကိုယ်ရေးမှတ်တမ်း
ဒေါက်တာခင်နှင်းအိသည်Bsc(ရူပဗေဒ)ဘွဲ့ကို၁၉၈၅တွင်ရန်ကုန်တက္ကသိုလ်မှရှိခဲ့ပါသည်။Msc(ရူပဗေဒ)ဘွဲ့ကို၁၉၉၅တွင်ရန်ကုန်တက္ကသိုလ်မှရရှိခဲ့ပါသည်။ Phd(ရူပဗေဒ)ဘွဲ့ကို၂၀၁၄တွင် Theoretical Nuclear Physicsဘာသာဖြင့်မန္တလေးတက္ကသိုလ်မှရရှိခဲ့ပါသည်။၁၉၈၆မှစတင်ပြီးတက္ကသိုလ်ဆရာမတာဝန်ကိုထမ်းဆောင်ခဲ့ရာယခုအချိန်တွင်ပါမောက်ခတာဝန်ကိုရွှေဘိုတက္ကသိုလ်၌ဆက်လက်ထမ်းဆောင်လျက်ရှိပါသည်။
Faculty Members of Physics Department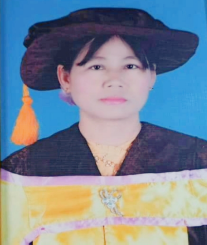 Dr Aye Than Kyae
Associate Professor
BSc(Hons;), MSc, PhD(Physics)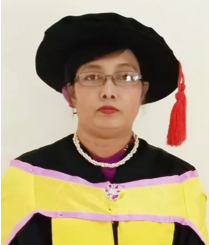 Dr Thida Win
Associate Professor
BSc(Hons;), MSc, PhD(Physics)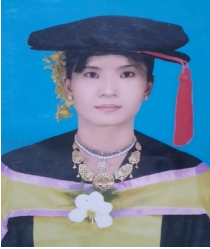 Dr Nilar Tun
Associate Professor
BSc(Q), MSc(Credit), PhD(Physics)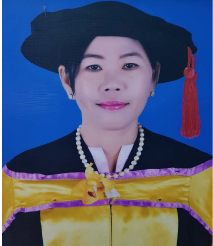 Dr Aye Thida
Associate Professor
BSc(Q), MSc(Credit), PhD(Physics), DCSc(computer)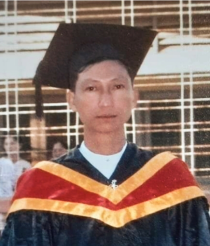 U Hla Thein Maung
Lecturer
BSc(Hons;), MSc, PhD(Thesis)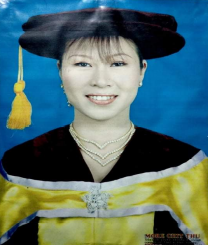 Dr Than Than Myint
Lecturer
BSc(Hons;), MSc, MRes, PhD(Physics)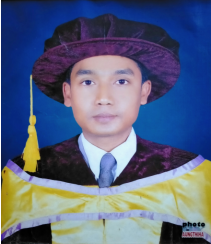 Dr Win Moe Thant
Lecturer
BSc(Q), MSc, MRes, PhD( Physics)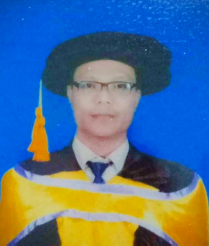 Dr Swe Wunna
Lecturer
BSc(Q), MSc, MRes, PhD( Physics)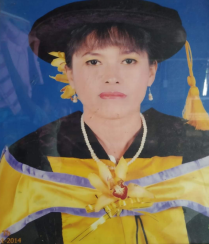 Dr San San Nu
Lecturer
BSc(Q), MSc, MRes, PhD( Physics)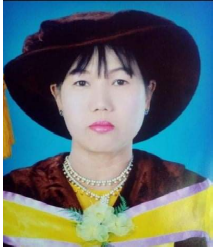 Dr San San Oo
Lecturer
BSc(Q), MSc, PhD( Physics)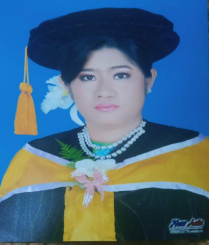 Dr Saw Yu Win
Lecturer
BSc(Q), MSc, MRes, PhD( Physics)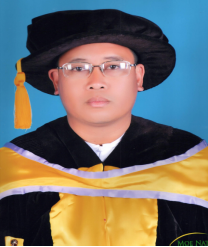 Dr Nyi Nyi Tun
Lecturer
BSc(Hons;), ,PGDT, MSc, MRes, PhD(Physics)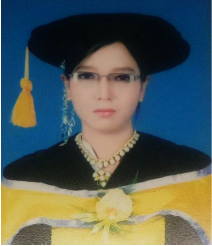 Dr Aye Aye Khaing
Lecturer
BSc(Hons;), MSc, PhD(Physics)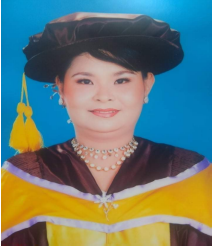 Dr Aye Aye Mar
Lecturer
BSc(Q), MSc, MRes, PhD(Physics)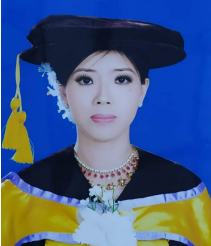 Dr San San Aye
Lecturer
BSc(Hons;), MSc, MRes, PhD( Physics)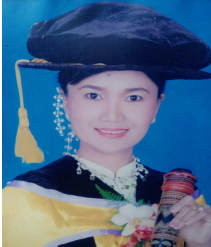 Dr Thandar Swe
Lecturer
BSc(Hons;), MSc, MRes, Dip; in Eng, PhD( Physics)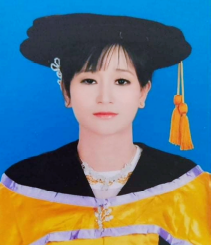 Dr Myat Thet Mon
Lecturer
BSc(Hons;), MSc, MRes, PhD(Physics)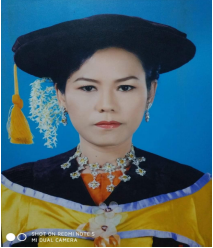 Dr Khin Myat Mon
Lecturer
BSc(Hons;), MSc, MRes, PhD(Physics)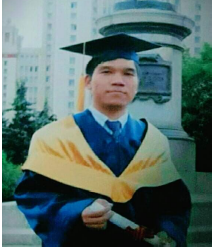 Dr Kyaw Kyaw Naing
Lecturer
BSc(Hons;), MSc, MRes, PhD(Physics)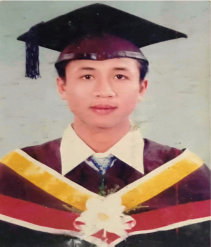 U Soe Zaw Aung
Lecturer
BSc, MSc, PhD(Thesis)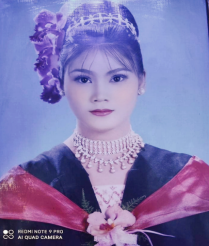 Daw Khin Swe Yi
Lecturer
BSc(Hons;), MSc(Physics)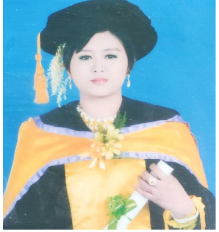 Dr Thae Mar
Lecturer
BSc( Hons;), MSc, MRes , PGDE(MUFL), PhD (Physics)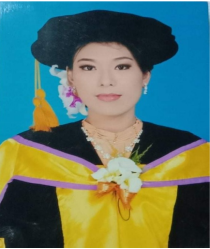 Dr Ei Phyu Win
Lecturer
BSc(Hons;), MSc, MRes, PhD( Physics)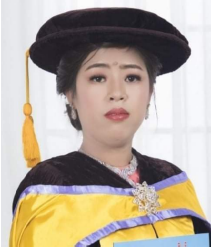 Dr Myint Myint Maw
Lecturer
BSc(Hons;), MSc, MRes, PhD( Physics)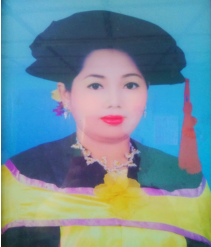 Dr Myint Myint Soe
Assistant Lecturer
BSc, MSc, MRes, PhD(Physics)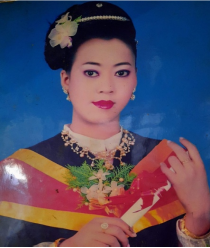 Daw Khin La Pyae Woon
Assistant Lecturer
BSc, MSc, PhD(Thesis)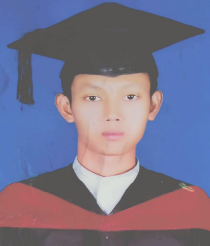 U Ye Khaung
Assistant Lecturer
BSc(Hons;), MSc (Physics)
Dr Hla Kay Thi
Demonstrator
BSc, MSc, MRes, PhD(Physics)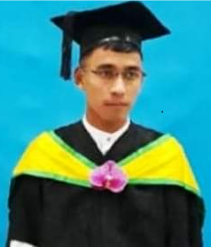 U Nyi Nyi Ye Lwin
Demonstrator
BSc(Hons;), MSc, MRes (Physics)